Put yourself in the shoes of your sales manager. What are they looking for?
On a resume, they are looking for a few things overall:
Sales related experience: Sales activities, sales cycles you have worked on, quota achieved
Demonstrated past success in sales: E.g. Closed 12 deals against a quota of 10. Brought in $10k of revenue, specific milestones, etc
Your passion for sales: They want to hear you love sales! Everyone knows it's a job that takes determination and resilience, so this helps display those attitudes. If you have read sales books, or followed a sales methodology, include that. E.g. Read Predictable Revenue by Aaron Ross
When you write your job bullets points, you want to focus on these things:
Sales results e.g. Generated X amount of revenue during Q1.
Sales activities e.g. Made an average of 30 cold calls a day and booking 3 meetings per week
You can also include territory information, sales cycle information, deal size, product demos, etc. Anything related to the sales cycle.
Lastly, styling and readability.
Improve readability by doing two things.

1 page only
Maximum 3-4 bullet points per job description. The recruiter is likely only going to read the first bullet, so make that count.
Use bold to highlight key terms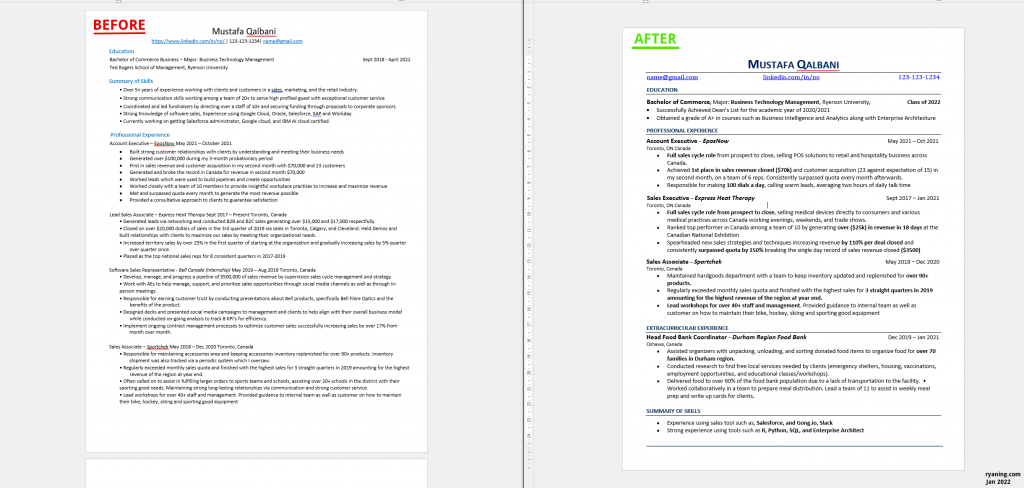 From the example above, you can see almost 100% of the experience is sales experience.
After you've completed your resume, you can then do the below.
Example LinkedIn Sales Profile For New Grad
Why should you update your LinkedIn to be so tailored to your career goal?
When you are a new grad, you want to optimize your LinkedIn profile so when a recruiter lands on it, you are the "perfect applicant" they have been looking for. You can see I did this in my 2017 video, where I literally put "Looking for IBM Sales Internship" in my bio. I sent my LinkedIn profile to the recruiter before the call too.
The vast majority of LinkedIn profiles are "generic". The profile above is so targeted that if you are a Sales Manager, this is absolutely remarkable.
The stronger your brand is, the less you have to convince your interviewers.

> Resume Template Link (Download as .docx or the formatting gets messed up)

Contact my friend Mahir for more tips!